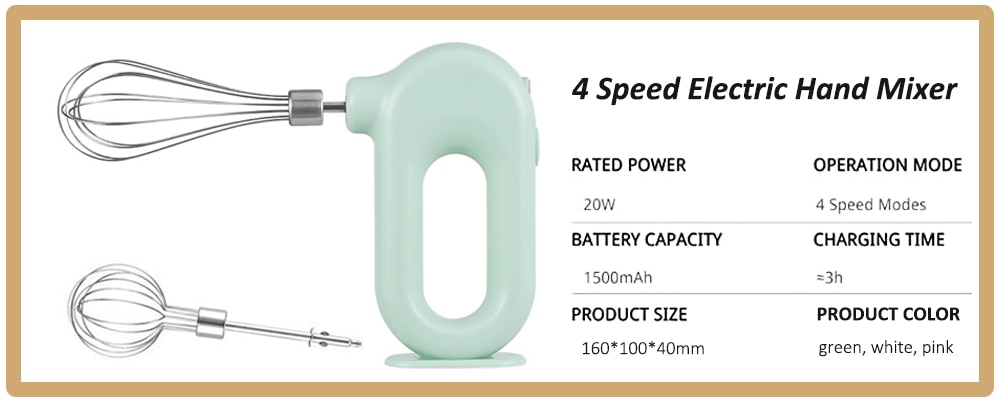 Wireless Portable Electric Food Mixer 3 Speeds Automatic Whisk Dough Egg Beater Baking Cake Cream Whipper Kitchen Hand Blender
Feature:
【Multi-Purpose】Suitable for beating eggs, cream, milkshake, butter, dough,kids food, etc., your kitchen good helper.
【High Power Motor】60 seconds high-speed whipping, fine and even.
【Intellgent 3-gear Adjustable】Only one-button control is required to adjust the three gears, and the gear can be selected according to the needs.
【USB Charging Port】It can work continuously for 5 minutes after full charge, support power bank, car, computer, socket charging, charging wherever you go.
【304 Food Grade Stainless Steel Material】Come with 2pcs 304 stirring rods, one for stirring and one for beating eggs, good choice for you, to protect the healthy of family and children.
【Wireless and Vertical Design】Wireless portable design, compact and non-slip, vertical design, easy to place and not dirty desktop.
Description:
Product name: Wireless Electric Egg Mixer
Material: ABS+ 304 Stainless Steel
Rated voltage: 5V
Rated current: 1A
Rated power: 23W
Charging time: about 3 hours
Features: Easy to operate
Continuously working
time: ≤5 minutes
Size: 24.6*4.5*16cm
Color: Green, white
Type: Kitchen Wireless Stirrer/lightweight body/hand-held not sour
*Gear Position: 3 gears
1st gear low speed, suitable for salad dressing;
2nd gear medium speed for stirring egg liquid;
3rd gear high speed for whipping egg whites, cream, butter.


Package List:
1 * Mixer host
2 * Stirring rod
1 * USB charging cable